G Suite is a cloud-based productivity suite that helps you and your team connect and get work done from anywhere on any device. It's simple to setup, use and manage, allowing you to work smarter and focus on what really matters. Stream Data Solutions can provide a FREE 30 day trial of Google APPs for business.
Google's web-based messaging and collaboration apps require no hardware or software and need minimal administration, creating tremendous time and cost savings for businesses. End users can use the familiar Microsoft Outlook interface for email, contacts and calendar as they transition to Gmail and Google Calendar. A leading research firm found that Google Apps is as little as 1/3 the total cost of competing solutions. Want to see how much you could save with Google Apps compared to Microsoft Exchange 2007?
Each employee gets 30 GB for email storage, so they can keep important messages and find them instantly with built-in Google search. Gmail is designed so employees can spend less time managing their inboxes, and more time being productive. Time-saving features like message threading, message labels, fast message search and powerful spam filtering help employees work efficiently with high volumes of email.
With several options for accessing their information while on the go, employees can be productive with Google Apps even when they're not at their desks. At no extra charge, Google Apps supports over-the-air mobile access on BlackBerry devices, the iPhone, Windows Mobile, Android and many less powerful phones.
We guarantee that Google Apps will be available at least 99.9% of the time, so your employees are more productive and so you can worry less about system downtime.* With synchronous replication, your data and activity in Gmail, Google Calendar, Google Docs and Google Sites is simultaneously preserved in multiple secure data centers. If one data center is unable to serve your requests, the system is designed to instantly fall back to another data center that can serve your account with no interruption in service.
When you trust your company's information to Google, you can be confident that your critical information is safe and secure. Google's information security team, including some of the world's foremost experts in information, application and network security, are focused on keeping your information safe. Google and many other customers trust this system with highly sensitive corporate data. Businesses get these customizable security features with Google Apps: Custom spam and inbound mail filtering tools, powered by Postini, to complement powerful spam filters that automatically work with no up-front configuration. Custom outbound mail filtering tools to prevent sensitive information from being distributed, powered by Postini. Custom information sharing rules to determine how broadly employees are allowed to share with Google Docs, Google Calendar and Google Sites. Custom password length requirements and visual strength indicators to help employees pick secure passwords. Enforced SSL connections with Google Apps to ensure secure HTTPS access. Optional email archiving, up to 10 years of retention.
Administrators can deeply customize Google Apps to meet their technical, branding and business requirements. Integration options let you connect Google Apps to your existing IT infrastructure. Single sign-on API connects Google Apps to your existing authentication system. User provisioning utility and API connect Google Apps to your existing user directory system. Email routing and email gateway support let you run Google Apps alongside an existing email solution. Email migration utility and API let you bring mail from your existing email solution into Google Apps. System branding and data ownership give Google Apps your look and feel, and ensures customer ownership of employee data. Custom user accounts on your company's internet domain. Custom logo and colors in the applications. Contractual customer ownership of employee data.
Google Apps is highly reliable and easy to operate, but support is available for administrators should you need it. Support options include: Phone support for critical issues Email support Self-service online support Google Apps also has a deep network of partners ready to help businesses with deployment, data migration, user training, system integration and custom application development.

Gmail
Run your business, not your email server
Gmail for business offers 30 GB of storage per user, powerful spam filtering, BlackBerry and Outlook interoperability, and a 99.9% uptime SLA.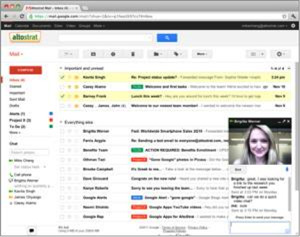 Email, IM, voice and video chat
Each user gets 30 GB of email and IM storage (50 times the industry average).
Anytime, anywhere access to your email
Gmail is securely powered by the web, so you can be productive from your desk, on the road, at home and on your mobile phone, even when you're offline.
Sync with Android, iPhone & BlackBerry
Get the benefits of Apps on leading mobile platforms
Search and find emails instantly
Spend less time organizing email and find emails quickly with Google-powered search for your inbox.
Get less spam
Powerful Gmail spam filtering helps you stay focused on what's important. Postini filtering lets you customize your spam protection.
New! Get apps that integrate with your Gmail inbox.
---

Google Calendar
Manage meetings online with Google Calendar
A web-based calendar application that enables employees to work together efficiently and helps minimize costs and IT hassles.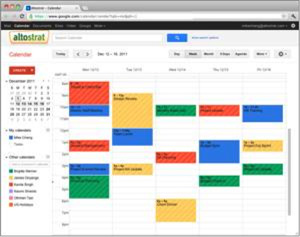 Easily schedule appointments
Overlay multiple calendars to see when people are available. Google Calendar sends invitations and manages RSVPs.
Integrate with your email system
Google Calendar is integrated into Gmail and interoperable with popular calendar applications.
Share project calendars
Calendars can be shared company-wide or with select co-workers. A range of sharing permission controls help maintain security and privacy.
Access with your mobile device
View and edit event details, add new events, and invite guests on mobile devices like the BlackBerry and iPhone. Even receive calendar notifications via SMS.
Publish calendars
Publicize external company events by publishing a calendar to make it searchable in the Google Calendar gallery. Easily embed calendars into web pages.
---

Google Drive
Online documents with real-time collaboration
Web-based documents, spreadsheets, drawings and presentations that let users edit the same file at the same time so you always have the latest version.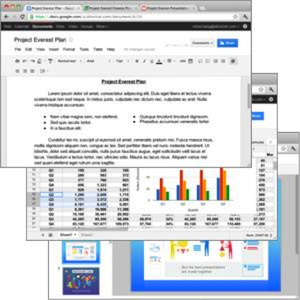 Anytime, anywhere access to your work
Google Drive is securely powered by the web, giving you the flexibility to be productive from your desk, on the road, at home and on your mobile phone, even when you're offline.
Works across operating systems
Google Drive on your Mac, PC or mobile device (or your browser) gives you a single place for up-to-date versions of your files from anywhere. In addition to any file type you choose to upload, Google Docs are also stored in Google Drive.
Easily upload and share files
Share individual files or whole folders with individual people, your entire team or even customers, vendors and partners. Create and reply to comments on files to get feedback or add ideas.
Secure access controls
Administrators can manage file sharing permissions system-wide, and document owners can share and revoke file access at any time.
---

Google Sites
Create dynamic web pages as easily as writing a document
Google Sites is an easy way to create secure web pages for intranets and team projects. No coding or HTML required.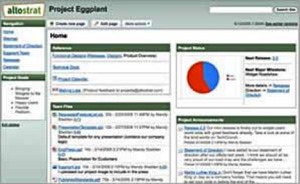 Organize information in a central place
Use Google Sites to centralize documents, spreadsheets, presentations, videos, slideshows and more to help keep teams organized.
New! Build collaborative sites faster with templates for project workspaces, team sites, intranets and more.
Anytime, anywhere access
Google Sites is securely powered by the web, so you can access company pages from your desk, on the road, at home and on your mobile phone.
Works across operating systems
Google Sites works in the browser on PC, Mac and Linux computers.
System and site-level security controls
Administrators can manage site sharing permissions across the business, and authors can share and revoke file access at any time.
---

Vault
Add archiving and e-discovery to Google Apps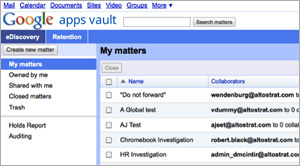 Retention policies
Define retention policies that are automatically applied to your email and chat messages.
Email and chat archiving
Your email and chat messages are archived and retained according to your policies, preventing inadvertent deletions.
E-discovery
Be prepared for litigation and compliance audits with powerful search tools that help you find and retrieve relevant email and chat messages.
Legal hold
Place legal holds on users as needed. Email and chat messages can't be deleted by users when they're placed on hold.
Export
Export specific email and chat messages to standard formats for additional processing and review.
Audits
Run reports on user activity and actions in the archive. Searches, message views, exports and more are shown.
---
Features
Messaging apps: Gmail and Google Calendar and Google Groups for Business
| | |
| --- | --- |
| Gmail storage | 30 GB / account |
| Interoperability with Microsoft Outlook email and calendar | |
| Sync with Blackberry Enterprise Server | |
| Easy contacts management | |
| Mobile email, calendar and IM access | |
| Email security, powered by Postini | |
| Gmail ads can be disabled | |
| Resource scheduling in Google Calendar | |
| Mailing list functionality and easy content sharing with groups | |
Collaboration apps: Google Drive, Sites, and Video for Business
| | |
| --- | --- |
| Google Drive storage | 5 GB per user for file storage |
| Google Sites storage | 10 GB plus 500 MB per user for shared storage |
| Google Video for Business offers private, secure video sharing | |
| Google Apps Script | |
Support and reliability
| | |
| --- | --- |
| 24/7 phone and email support for critical issues | |
| 99.9% uptime guarantee SLA* | |
| Synchronous replication | |
| Self-service online support | |
 Increased security
| | |
| --- | --- |
| SSL enforcement for secure HTTPS access | |
| Customizable spam filtering | |
| Customize password strength requirements | |
| Email routing and email gateway support | |
| Customizable policies to filter email containing sensitive information | |
| Email encryption using standard TLS protocols | |