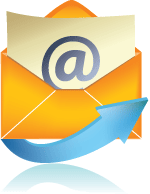 Email Solutions tailored to your business needs
Email is now considered the most essential tool for conducting business at Stream Data Solutions we can provide hosted email services for [email protected]  With many options available we have expertise in POP3, SMTP, IMAP, Exchange and Webmail.
As a reseller for Google G Suite and Microsoft Office 365 cloud services we have access to all the latest email technology and can help your migrate your email services to the Cloud with  no disruptions to your email flow.
We can find the right solution for your business model, including mobile-based email for the iPhone, iPad, Blackberry and many other mobile devices and smartphones.