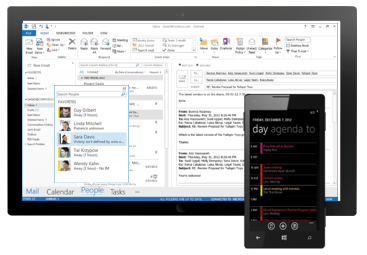 Do you have reliable access to your email from wherever the day takes you? Are you concerned about privacy issues with your email? Is your IT staff burdened with having to do more with less resources?
No matter how you run your business, Microsoft Exchange Online can help. With Exchange Online, you get best-in-class hosted email, calendar, and contacts on your PC, phone, tablet, and web browsers so you can have anywhere access to your information with easy IT management and enterprise-class security and reliability.
Exchange Online is available as a standalone plan or as part of the comprehensive Office 365 cloud services that combines the familiar Office applications with business email by Exchange Online, web conferencing by Lync Online, and document sharing by SharePoint Online.
Anywhere access

Work from anywhere on the devices that you use most.

Access your email from your favorite devices including Windows Phone, iPad, iPhone, Android, and BlackBerry
Work from virtually anywhere through your favorite browsers: Internet Explorer, Firefox, Safari, and Chrome
Get more done with a 25 GB mailbox and complete integration with Outlook including offline access
Get reliable calendaring across devices

Easy IT

Get business-class email without upgrading your server.

Get automatic patches, updates, and back-end upgrades
Easily add or remove users and set email policies
Utilize free tools that help you quickly transfer information from your old email system
Find help when you need it with customer phone support available 24/7
Pricing starts from $4.40/user per month. To learn more, contact your Microsoft partner Stream Data Solutions