Google Apps is a cloud-based productivity suite that helps you and your team connect and get work done from anywhere on any device. It's simple to setup, use and manage, allowing you to work smarter and focus on what really matters.
Google's web-based messaging and collaboration apps require no hardware or software and need minimal administration, creating tremendous time and cost savings for businesses.
End users can use the familiar Microsoft Outlook interface for email, contacts and calendar as they transition to Gmail and Google Calendar.
A leading research firm found that Google Apps is as little as 1/3 the total cost of competing solutions.

Gmail
Run your business, not your email server
Gmail for business offers 30 GB of storage per user, powerful spam filtering, BlackBerry and Outlook interoperability, and a 99.9% uptime SLA.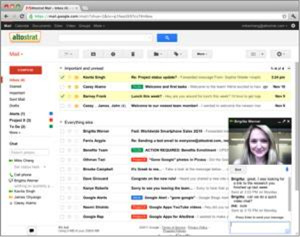 Email, IM, voice and video chat
Each user gets 30 GB of email and IM storage (50 times the industry average).
Anytime, anywhere access to your email
Gmail is securely powered by the web, so you can be productive from your desk, on the road, at home and on your mobile phone, even when you're offline.
Sync with Android, iPhone & BlackBerry
Get the benefits of Apps on leading mobile platforms
Search and find emails instantly
Spend less time organizing email and find emails quickly with Google-powered search for your inbox.
Get less spam
Powerful Gmail spam filtering helps you stay focused on what's important. Postini filtering lets you customize your spam protection.
New! Get apps that integrate with your Gmail inbox.

Google Calendar
Manage meetings online with Google Calendar
A web-based calendar application that enables employees to work together efficiently and helps minimize costs and IT hassles.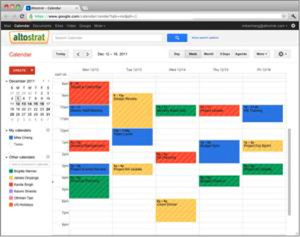 Easily schedule appointments
Overlay multiple calendars to see when people are available. Google Calendar sends invitations and manages RSVPs.
Integrate with your email system
Google Calendar is integrated into Gmail and interoperable with popular calendar applications.
Share project calendars
Calendars can be shared company-wide or with select co-workers. A range of sharing permission controls help maintain security and privacy.
Access with your mobile device
View and edit event details, add new events, and invite guests on mobile devices like the BlackBerry and iPhone. Even receive calendar notifications via SMS.
Publish calendars
Publicize external company events by publishing a calendar to make it searchable in the Google Calendar gallery. Easily embed calendars into web pages.
Google Drive
Online documents with real-time collaboration
Web-based documents, spreadsheets, drawings and presentations that let users edit the same file at the same time so you always have the latest version.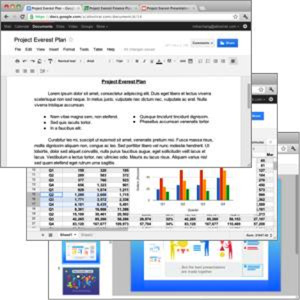 With several options for accessing their information while on the go, employees can be productive with Google Apps even when they're not at their desks.At no extra charge, Google Apps supports over-the-air mobile access on BlackBerry devices, the iPhone, Windows Mobile, Android and many less powerful phones.We guarantee that Google Apps will be available at least 99.9% of the time, so your employees are more productive and so you can worry less about system downtime.*With synchronous replication, your data and activity in Gmail, Google Calendar, Google Docs and Google Sites is simultaneously preserved in multiple secure data centers. If one data center is unable to serve your requests, the system is designed to instantly fall back to another data center that can serve your account with no interruption in service.The Radicati Group found that Microsoft Exchange typically has 60 minutes of unplanned downtime per month. Google Apps customers typically experience less than 15 minutes of downtime per month.Stream Data Solutions is an authorised Google APPs Reseller.  
Contact us to find how you can switch your business to Google APPS